The Navy-Marine Corps Mobilization Processing System Project Team was selected as a 2009 Department of the Navy (DON) Chief Information Officer (CIO) Information Management/Information Technology Excellence Award winner for their contributions toward transforming the Navy and Marine Corps through information technology. Dr. David Danner, IDEAMATICS, Jaime Wiley, Microsoft Corp., and LCDR Selina Burford, NPC, received the award from Robert Carey, DON CIO, on behalf of the team at a ceremony held in San Diego.
— Positive Information Network (PIN): The Newsletter for BUPERS Millington/NPC Employees (Issue 8)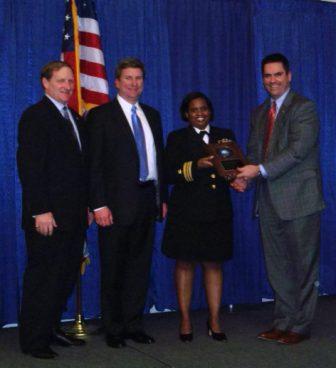 The award was presented in front of hundreds of Navy, other military, and other government agency and contractor attendees at the Navy Honors Reception and Dinner on Wednesday, 11 February 2009, at the San Diego Convention Center. The program was part of the AFCEA/USNI WEST Conference.
Summary of the Award Text:
The Navy-Marine Corps Mobilization Processing System (NMCMPS) Team is recognized for its rapid design, development and implementation of the core system for what has become the US Navy's authoritative Web-based Individual Augmentation tracking system in support of the Global War on Terror. The Development Team, comprised of representatives from several key Navy organizations and small business application software firms, used commercial development tools to create a web-enabled personnel requirements and fulfillment system which operates across Department of Defense secure and non-secure environments using role based permissions to allow use by commands throughout the world.