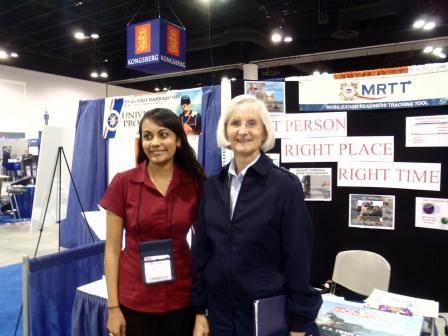 The U.S. Coast Guard Headquarters' Incident Management & Cross Contingency Division participated in the 2010 USCG Innovation EXPO hosted in Tampa, FL 2-4 November 2010. This is the second year in a row that theMobilization Readiness Tracking Tool supported by IDEAMATICS has been featured at the EXPO, providing the opportunity to tell the story of its success during Cost Guard response operations over the past two years, highlighting recent Haitian Earthquake and Deepwater Horizon (DWH) activities.
Six flag rank officers visited the MRTT booth to review the potential of future use to improve USCG responsiveness, including:
VADM Brice-O'Hara (Vice Commandant)
RADM Hewitt (CG-1)
RADM Day (Senior Reserve Officer, Atlantic Area)
RDML Welch (Senior Reserve Officer, Pacific Area)
RDML Thomas (CG-53)
VADM (Ret.) Cross (former Vice Commandant)
Most visitors to the booth, including senior Auxiliary officers, were extremely interested in gaining access to MRTT in order to help during response operations.
Team IDEAMATICS appreciated the opportunity to demonstrate the MRTT with our Team Coast Guard counterparts.