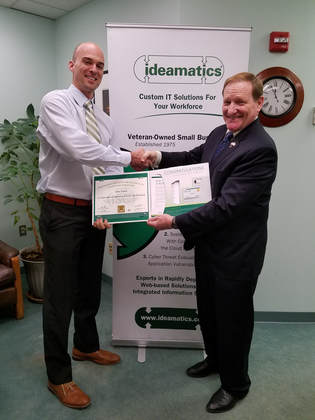 Mr. John Kaplar, the IDEAMATICS Director of Applications Development, was awarded the CSSLP certification during February 2018.  CSSLP (Certified Secure Software Lifecycle Professional) is a certification from (ISC)2 that focuses on application security within the software development lifecycle (SDLC).  The certification's curriculum focuses on application vulnerabilities, risk, and compliance issues that arise during the application development lifecycle.  In order to be considered for the CSSLP certification, candidates must have at least four years cumulative paid full-time work experience in at least one of the eight domains of the CSSLP and must pass a rigorous four hour, 175 question exam.
The CSSLP meets the Level I and II IA System Architecture and Engineering requirements of the DoD-mandated Information Assurance Workforce Improvement Program (DoD 8570.01M).
Additionally, the CSSLP certification is accredited for the requirements of ANSI/IEC/ISO Standard-17024.  IDEAMATICS Inc. having CSSLP employees validates our expertise in application security, allows us to better handle application vulnerabilities, and proves we have a working knowledge of securing applications in today's rapidly-changing environments.
IDEAMATICS is committed to information assurance in every solution we deliver to our clients, and we invest in our staff to continue their individual professional growth.  We are pleased to congratulate Mr. Kaplar on this achievement, and we look forward to his continued success as one of our application development leaders.