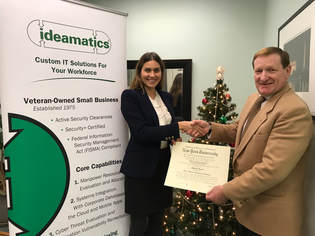 Ms. Heravi recently graduated from the New York University (NYU), School of Professional Studies, Division of Programs in Business, earning a Master of Science in Management and Systems degree.
NYU's very competitive MS in Management and Systems curriculum, ranked among the best in the country(1), is a unique program which provides strong business leadership skills and comprehensive knowledge of information technologies, which enable organizations to improve financial and marketplace performance.
With a focus on the alignment and integration of management information systems and technology with key business strategies, the Master of Science in Management and Systems program provides the competitive advantage of understanding organizations as complex systems with shared visions.    Ms. Heravi chose the program's Strategy and Leadership concentration, focusing on organizational leadership competencies, combining demanding course work with industry case studies and simulations, to provide a variety of valuable learning opportunities and experiences.
Pursuing this challenging forty-six credit hour degree is a testament to Ms. Heravi's commitment to professional growth, while balancing the demands of her position at IDEAMATICS.
Ms. Heravi has over eleven years of experience in design and implementation of .Net web applications, web service and application management.  She has been involved in all aspects of maintaining and developing the Navy's mission critical Navy-Marine Corps Mobilization Processing System (NMCMPS), specific to its Secret Internet Protocol Router Network (SIPRNet) environment.
Ms. Heravi is seen here being congratulated by Dr. David L. Danner, President of IDEAMATICS, Inc.
https://www.collegechoice.net/rankings/best-masters-in-management-information-systems-degree-programs/