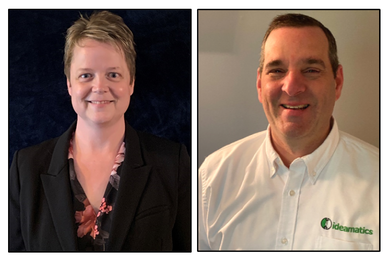 IDEAMATICS added two new management positions to our corporate leadership team to better support our goal of providing consistent and effective results to our clients.  Ms. Angel Polka was appointed the IDEAMATICS Director of Training on 10 December 2019 and Mr. Kevin Whisman was designated our Director of Project Management on 1 April 2020.
Angel is a U.S. Navy veteran and an experienced educator with more than 14 years as our lead software trainer and tester.
She is also a Certified Professional Scrum Master, holds a Master's Certificate in Software Testing, a CompTIA Security+ CE certification and she is IAT Level II certified.  As the IDEAMATICS training portfolio has grown substantially over the past two years, Angel has proven her ability to lead our team of trainers and technical writers to develop and deliver high quality software training to our clients' internal trainers and users.
Kevin joined the IDEAMATICS team in 2019 after establishing himself in a variety of increasingly challenging program and project management positions since he retired from the U.S. Navy in 2007.  He is a subject matter expert in Agile Management and Methodology, a Lean Six Sigma Black Belt and will soon complete his Project Management Professional (PMP) certification.  His talented leadership of our Navy e-CRM project and experience with the Agile software development process make him the right choice to serve as our first Director of Project Management.  Kevin's primary responsibility in this position is to identify and implement best practices across all IDEAMATICS' operations to include a focus on people, processes, tools, and lessons learned/knowledge sharing.
By establishing these two new positions and filling them with our highly qualified information technology professionals IDEAMATICS has significantly enhanced its ability to combine Agile software development and training techniques to ensure the rapid, responsive results that our clients expect.