Quick Efforts Saves Essential Data During Flood
MILLINGTON, TN — While many of the Navy's web-based manpower systems were taken offline due to flash flooding at the Navy's personnel headquarters in Millington, TN, the Navy & Marine Corps Mobilization Processing System (NMCMPS) records contained on the servers were safe. All applications were fully restored and quickly back online.
"When the flood hit and the water started rising, we shut down key personnel systems to limit long-term damage. Our singular goal was to save personnel data," said Force Master Chief (AW/SW/NAC) Jon D. Port, Navy Personnel Command force master chief. "Contractors and government civilians and even the Coast Guard, based in downtown Memphis on the Mississippi River, joined the duty crew. Together, they pulled critical disks and drives from personnel systems that track the entire Navy." He said their quick action saved key personnel data that allowed NPC to be operational sooner.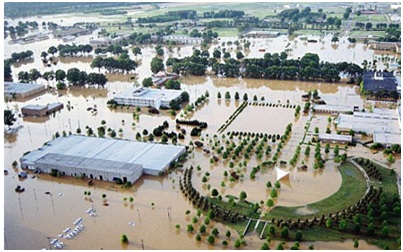 Less than a week after torrential rains sent up to four feet of water across Naval Support Activity Mid-South (NSA) Millington, Navy Personnel Command (NPC), the unclassified portion of the NMCMPS was up and running and synchronized with the classified NMCMPS Requirements Tracking Module which had been executing at the Pentagon without interruption.
The May 1 flooding caused base-wide power and phone outages, interrupted internet access and damaged the servers that provide NMCI services to the more than 2,000 military, civilians and contractors that work at NPC as well as PERSNET which hosts a variety of systems that provide services to the fleet.
* Some information above gathered from Navy News Service (NNS)