During the IDEAMATICS, Inc. 2018 Annual Meeting on April 23, 2018, President and CEO David Danner introduced John Kaplar as our new Vice President of Software Solutions.  Mr. Kaplar has applied superior software development and analyst skills as a member of the IDEAMATICS team since 2005.  He has extensive experience with managing development teams, having served as the Technical Team Lead for our Navy, Coast Guard, and Marine Corps contingency workforce management projects.  Mr. Kaplar holds the (ISC)2, Inc. Certified Secure Software Lifecycle Professional (CSSLP) certification, the CompTIA Security+ certification, and recently completed the Microsoft Certified Solutions Developer (MCSD) App Builder certification.
As our new VP of Software Solutions, Mr. Kaplar will provide software design and development leadership and he will evaluate and quantify available technologies to improve the solutions we provide our clients.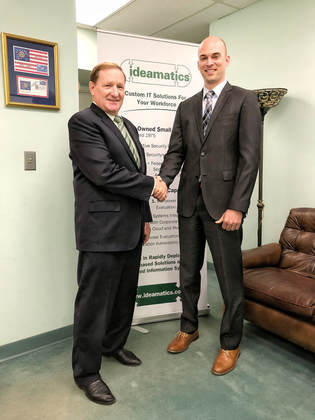 His duties include identifying new technology stacks and frameworks, and he will oversee the integration and standardization of custom business applications and implementation of COTS products in support of critical client functional requirements.
Mr. Kaplar holds a Bachelor of Science in Computer Science and Mathematics from the Christopher Newport University as well as a Masters of Engineering in Computer Science from the University of Colorado.